Vicki at 2bagsfull.blogspot.com is hosting another Grow Your Blog party on the 25th January so come back then to enter my
GIVEAWAY
and also visit lots of new blogs.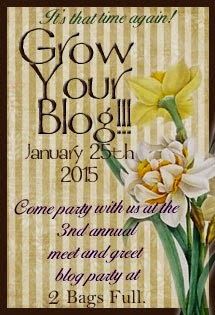 I have been busy since Xmas with a number of projects but I am saving them to post as part of the Blog Party Post.
I have been keen to get them finished so I can start trying out some of the new great techniques in the new book I got from my son for Xmas.
I want to do some fabric painting and use some new oil sticks I have just bought and also felting which I have not done for a while.
So just a quick catch up but please come back on the 25th for the Blog Party !
Pauline